specialist project research
Specialist Project Research – Researching the Documentary
I began researching Documentary methods and styles at the end of the second year at Uni as I knew this was something that I would be interested in developing for my BA 3rd year projects.
Video Links
Equipment
Editing
Interviewing
The Book List
A list of books that I have read and/or purchased to help me develop my skills and knowledge as a Documentary Filmmaker.
All these books can be found in the AUCB Library but they are in demand so I purchased them for future reference.
Book 1: The Documentary Moviemaking Course: The Starter Guide to Documentary Filmmaking (Professional Media Practice. Author Kevin J. Lindermuth.
Book Description (source Amazon.co.uk Accessed 16/10/2012)
Publication Date: 2 Aug 2010 | ISBN-10: 1408128586 | ISBN-13: 978-1408128589
More filmmakers are employed in making documentary films than any other genre. Thanks to the user-friendly equipment available today, it is no longer an area that requires a film-school background to get started. This book shows how you can begin making your first documentary movies – from researching and defining your theme, style, and the treatment that will drive your film, to organising the production and, ultimately, getting it seen by a wider audience. Following the simple practical advice, tips and easy steps in this book will get you started today. * Learn how to choose your subject and decide on your storytelling style * Create an outline/structure for your documentary and research and plan your material * Find out the essential equipment you will need to buy or rent in order to shoot and edit * Discover cinematic and editing skills to pull all your material together. * Understand how to budget and finance your project * Find out the logistics of shooting interviews, footage and other source materials * Create a trailer and get your work seen through festivals and publicity * Learn about the wider world of distribution.
Paperback: 144 pages
Publisher: Methuen Drama (2 Aug 2010)
Language: English
ISBN-10: 1408128586
ISBN-13: 978-1408128589
Book 2:
Film Directing Shot by Shot: Visualizing from Concept to Screen (Michael Wiese Productions). Author Steven D. Katz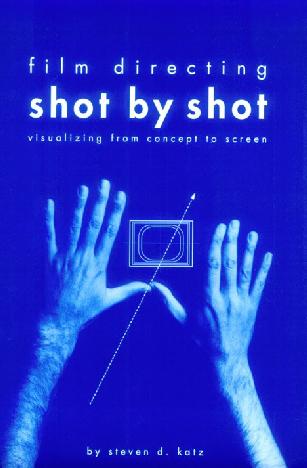 Book Description (source Amazon.co.uk Accessed 16/10/2012)
Publication Date: 1 July 1991 | Series: Michael Wiese Productions
A complete catalogue of motion picture techniques for filmmakers. It concentrates on the 'storytelling' school of filmmaking, utilizing the work of the great stylists who established the versatile vocabulary of technique that has dominated the movies
since 1915. This graphic approach includes comparisons of style by interpreting a 'model script', created for the book, in storyboard form.
Paperback: 366 pages
Publisher: Focal Press (1 July 1991)
Language: English
ISBN-10: 0941188108
ISBN-13: 978-0941188104
Book 3:
Introduction to Documentary. Author Bill Nichols
Book Description (source Amazon.co.uk Accessed 16/10/2012)
Publication Date: 1 Jan 2002 | ISBN-10: 0253214696 | ISBN-13: 978-0253214690
"Introduction to Documentary" provides a one-of-a-kind overview of the most important topics and issues in documentary history and criticism. Designed for students in any field that makes use of visual evidence and persuasive strategies, from the law to anthropology, and from history to journalism, this book spells out the distinguishing qualities of documentary. A wide-ranging and freewheeling form of film making, documentary has not yet received a proper, written introduction to its public, or its future makers."Introduction to Documentary" is not organized as a history of the form although its examples span a century of film making. Instead, this book offers suggestive answers to basic issues that have stood at the center of all debate on documentary from its very beginnings to today. Each chapter takes up a distinct question from 'How did documentary film making get started?' to 'Why are ethical issues central to documentary?' These questions move through issues of ethics, form, modes, voice, history and politics, among others. A final chapter addresses the question of how to write about documentary in a clear, convincing manner. "Introduction to Documentary" provides the foundational key to further explorations in this exceptionally vital area of center making today.
Paperback: 245 pages
Publisher: Indiana University Press (1 Jan 2002)
Language: English
ISBN-10: 0253214696
ISBN-13: 978-0253214690
Book 4: The Guerilla Film Makers Handbook
UK 3rd Edition
Since it's first edition in the mid 90's, The Guerilla Film Makers Handbook has become THE DEFINITIVE handbook used and referred to by both emerging filmmakers and experienced filmmakers alike. It's format is simple Q and A – the authors ask an expert in every field of film making process, from conception through to completion (and beyond), the ten questions any bright new film maker would ask if they had half an hour to chat over a coffee. And as the authors are three times feature filmmakers and veterans of the business, their questions are incisive, illuminating and to the point. There's no film historian or lecture style discussion that could be irrelevant or distracting, just what a new filmmaker needs to know, how to do it, how long it will take, how much it will cost, the variables, and what pitfalls they should avoid. Augmenting the experts are the filmmakers case studies, where filmmakers explain just how they got their films made, what really happened (opposed to what the press said), and what they learned from their own journeys.
The book now contains over 150 expert interviews, runs for 768 pages and is near a million words of vital information. It's lavishly illustrated from start to end, with diagrams, flow charts and photos. Industry expert interviews are contrasted by The Guerilla Film Makers Box Out Hot Tips, where the authors distil what it all means to the new film maker, and add their own money and time saving techniques. And of course HD and digital film making is now covered.
The authors also tell their story of how they made three low-budget feature films, worked with Oscar-nominated actors and Harrison Ford's brother, received a royal audience at the Palace, became a target for Turkish terrorists and ended up in a police cell – yet lived to tell the tale!
Paperback: 720 pages
Publisher: Continuum International Publishing Group Ltd.; 3rd Revised edition edition (25 Jan 2006)
Language: English
ISBN-10: 082647988X
ISBN-13: 978-0826479884
Related Blog Entries